Hellfest 2010 - Complete Line-up Revealed
Behold, a thing of beauty. The Hellfest Open Air, set to take place in Clisson, France from the 18th to the 20th of June 2010, has now revealed it's completed line-up and new bands.
ALICE COOPER - DEFTONES - MOTORHEAD - SLAYER - FEAR FACTORY - SAXON - AIRBOURNE - FIELDS OF THE NEPHILIM - INFECTIOUS GROOVES - STONESOUR - CARCASS - HYPOCRISY - ANNIHILATOR - EXODUS - DEVIN TOWNSEND PROJECT - MASS HYSTERIA - DOOM - DILLINGER ESCAPE PLAN - AS I LAY DYING - UNEARTH - ELECTRIC MARY - VULCAIN - BLASPHEME - KALISIA - TAMTRUM
Once again the festival will be putting on four stages of top quality bands over the three days for your metal enjoyment. Everyone will be able to find something to suit them from this top class line-up.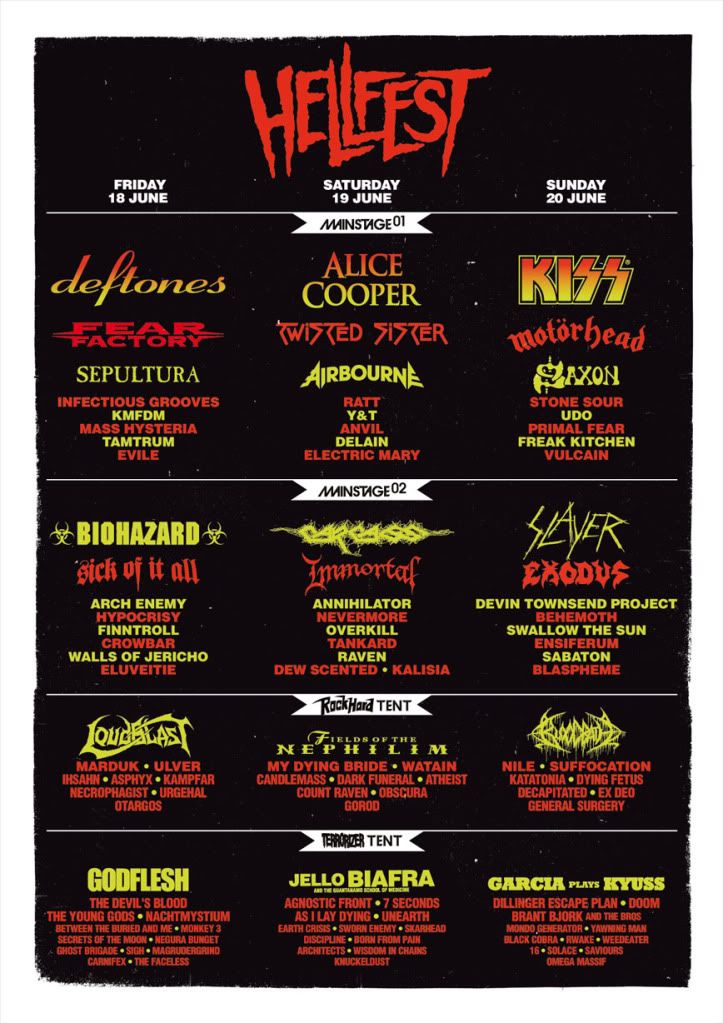 Full size image
here
.
And for more information, visit
www.hellfest.fr
Comments
Comments:
23
[ 1 ignored ]
Visited by:
302 users
unswabbed
AyΣm
Abyssal Zebra
Abattoir
BloodTears
ANA-thema
arj

Posts: 185
From: Denmark
arj

Posts: 185
From: Denmark
Bad English
Masterchief
Janne
Hugin
BitterCOld
waltesobchakheit
csiga
Munin
giok99
Ilham
Giant robot
Fat & Sassy!
Nomcat
Marcel Hubregtse
Grumpy Old Fuck
Fat & Sassy!
Nomcat
Darkside Momo
Retired
White Winter Sun
Laboratory's Rat
LeChron James
Helvetesfossen
Shankao
benvolent
Marcel Hubregtse
Grumpy Old Fuck
mankvill
LeChron James
Helvetesfossen
Hits total: 6850 | This month: 26