Darkane - Back With Original Line-Up, Euro Tour Dates Announced
Darkane
vocalist Jens Broman has decided to leave the band.
He is replaced by Lawrence Mackrory who sang on Darkane's 1999 debut album
Rusted Angel
and also did a guest appearance on "Chaos vs. Order" from
Expanding Senses
. Darkane would like to wish Jens the best of luck in the future.
Lawrence will make his new debut with Darkane in Strasbourg, France on September 20th when the European headlining tour will start, together with
Destinity
and
Devastating Enemy
.
Comments the band: "We are all very excited about the future, and are also working hard on the new album. We recently finished building the studio that we've been working on over the last 18 months, and we are very satisfied."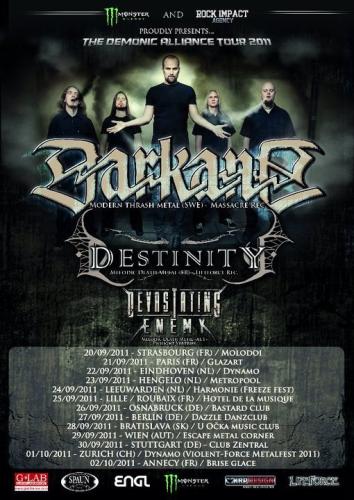 The Demonic Alliance Tour:
Sep. 20 - FR Strasbourg - Molodoi
Sep. 21 - FR Paris - Glaz'art
Sep. 22 - NL Eindhoven - Dynamo
Sep. 23 - NL Hengelo - Metropool
Sep. 24 - NL Leeuwarden - Harmonie (@ Freeze Fest)
Sep. 25 - FR Roubaix (Lille) - Hôtel de la Musique
Sep. 26 - DE Osnabruck - Bastard club
Sep. 27 - DE Berlin - Dazzle Danzclub
Sep. 28 - SK Bratislava - U Ocka music club
Sep. 29 - AT Wien - Escape Metal Corner
Sep. 30 - DE Stuttgart - Club Zentral
Oct. 01 - CH Zurich - Dynamo (@ Violent Force Metalfest)
Oct. 02 - FR Annecy - Brise Glace
Comments
Hits total: 2547 | This month: 10