Midnight - New Album Details Revealed, Title Track Streaming
On January 24th, 2020,
Midnight
will release their new album, entitled
Rebirth By Blasphemy
, via Metal Blade Records. For a preview of the album, which is available for pre-order
here
, the title track is streaming now below.
"
Rebirth By Blasphemy
is a rebirth," states
Midnight
's sole driving force, Athenar. "It's a change in life and it's a rebirth of doing whatever the fuck you want and seeing what happens after that. It's about saying yes, taking opportunities, taking a fucking chance."
Handling every instrument himself and being quite unfussy when it comes to production typically means that the recording process is a straightforward one for
Midnight
, and this time was no different. Staying in his home town of Cleveland, Athenar opted to record at Mercenary Studios with the assistance of Noah Buchanan, laying the drums down in a day, the guitars in a little more than that, bass in a few hours, and then tracking the vocals to two or three songs a day. "I think there's really no production value on the album, it's really just get in there, press record and see what happens. Maybe you can tell that the sessions went pretty quickly when you listen to it. There are so-called mistakes, of course, but I wouldn't have it any other way."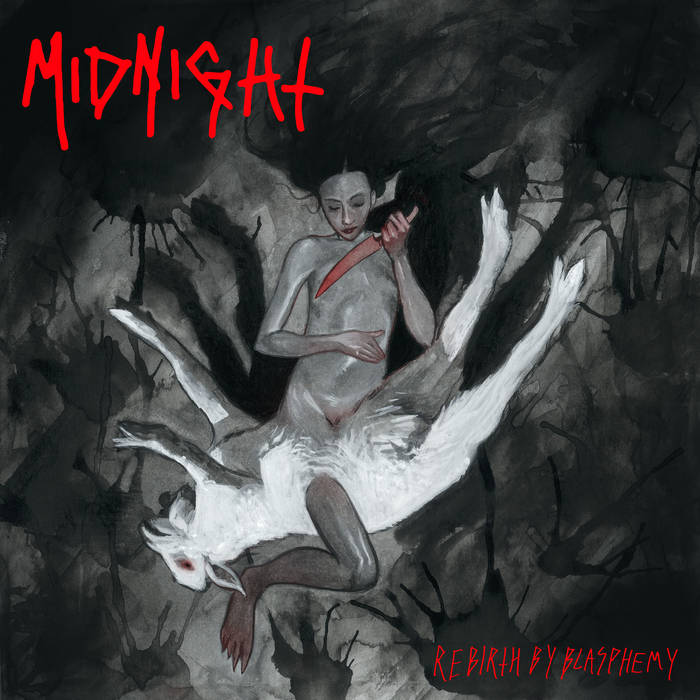 Tracklist:

01. Fucking Speed And Darkness
02. Rebirth By Blasphemy
03. Escape The Grave
04. Devil's Excrement
05. Rising Scum
06. Warning From The Reaper
07. Cursed Possessions
08. Raw Attack
09. The Sounds Of Hell
10. You Can Drag Me Through Fire
Hits total: 679 | This month: 9