Whitechapel, Metalcore, Deathcore...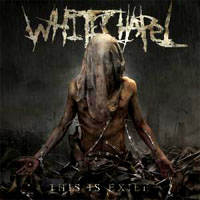 Whitechapel - This is Exile
I had a flashback to the early days of 1993. Death metal had just about peaked, and many people were looking for the next big thing -- in terms of style. Brutality was the catchphrase, and since millions of American kids had just rediscovered early Napalm Death thanks to a desperate search for the roots of underground metal, new bands were popping up that promised to be more brutal than before, usually by playing much faster and eliminating all melody. This flashback was prompted by hearing the hype about Whitechapel in one ear, and the reality played in the other.
Read the Rest:
Whitechapel - This is Exile review
I'd have to say that these same rules apply to all of the music considered metalcore, of which it seems to me 'deathcore' is a subset, but it's all written about the same way and with the same result... more informed people avoid it! What brought this plague upon extreme metal? It's music that's "a mile wide, an inch deep."