Alcest - 'Souvenirs D'un Autre Monde' Special Editions Coming
Prophecy Productions will reissue the debut album from
Alcest
ten years after its original release.
Souvenirs D'un Autre Monde
was originally released via the label in August 2007 - which marked the starting point of the French band's career. In celebration of the anniversary of this groundbreaking release, Prophecy Productions will release two special, limited editions of
Souvenirs D'un Autre Monde
in September.
Anniversary book (CD edition):
18x18 cm, 48 pages including:

Alternate cover artwork by longtime Alcest photographer Andy Julia that was originally used for the first LP pressing of the album

In-depth essay written by Neige. Chapters include: Back in 2007 | Genesis & concept | Recording | Musical influences | Retrospective

Additional exclusive essays by Andy Julia and Aaron Weaver (Wolves In The Throne Room)

Lyrics with English translation

Many rare and unpublished photos of Neige from the Souvenirs D'un Autre Monde era

Anniversary LP edition:

180g vinyl (black)

Gatefold cover featuring original LP cover artwork (Not used since the first pressings!)

Din A2 poster with original LP cover artwork

PVC protection sleeve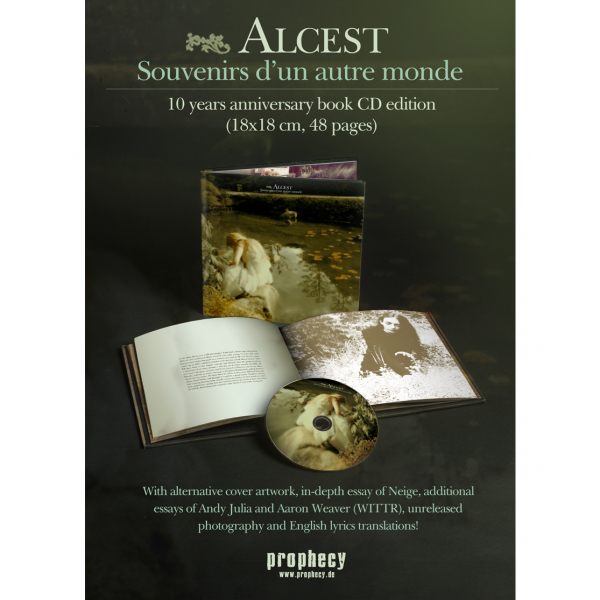 Both Souvenirs D'un Autre Monde special editions will be released on September 22nd and are available for pre-order now.

Neige comments: "Souvenirs D'un Autre Monde came out ten years ago, in 2007. It's crazy to witness time flying by so fast. It seems like the album was released only yesterday, yet so many things happened in the life of Alcest during this period of time. My young age and my somewhat lack of experience at the time gave 'Souvenirs...' a strong, genuine approach, along with a characteristic sound. It's a concept album that didn't have any other purpose than pure artistic ambition and didn't follow any pre-established genre. All of this gives it a really special place in my heart and is probably also why it's still one of the proudest moments of my musical career so far."


Comments
Hits total: 1584 | This month: 35